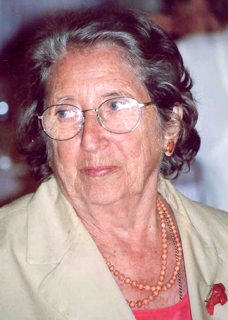 Eleonora Barbieri Masini has led a fascinating life and has greatly contributed to Futures Studies and futures scholars.
Dr. Eleonora Barbieri Masini has been "in the right place at the right time" in the creation and development of futures studies. She is a deeply ethical and human person, whose honest and tenacious attitude facilitated international institutions (in particular the World Futures Studies Federation), opening the way to intercultural studies, futures studies and human ecology. A tireless traveler and personal friend of the leading futures researchers from around the world, Eleonora has had great influence on the training of futures researchers in various regions of the world.
Dr. Masini is positive, studious, respectful of differences, conciliatory, and a builder of alternative futures — she has been the soul of futures studies. Eleonora has made a significant contribution to this field. Facing the mainstream of futures studies in the 1970s, which favored a techno-economic approach, Eleonora emphasized aspects such as human and social foresight. Her work focused on the visions of the future; the development of capacities and values that emerge when addressing qualitative, human and social issues; challenged futures studies to rethink and highlight the role of women, family, ethics, culture, equity and the environment.
Eleonora's purpose has been to recognize the many visions of diverse futures: giving voice to those who do not conventionally participate in futures initiatives  (women and children). She sought interconnection and dialogue through resolving conflicts and creating spaces of harmony. 
For all the above reasons, and the enormous coherence between her life, her work, and her being — Dr. Masini is one of the important founders of futures studies and a wise guide for the new generations to continue to see futures studies not just as about technology and economics but futures as if people (especially children), culture and the environment matter. 
A book edited by Antonio Alonso (Foundation Barros Sierra) is about her life and her work in Futures. 
This book is an acknowledgment of her deep and broad impact. It is divided into three parts: her life and work, her voice, and what Eleonora saw through the window of her students, colleagues, and friends. It relates her biography and academic development, presents key articles in her subjects of interest, and presents a collection of texts about her personality and her work, written by a wide range of great thinkers of future studies. It is a well-deserved tribute that aims to collect and share her thoughts to a broad audience interested in the future of humanity.