HUMAN FUTURES: A Publication of the World Futures Studies Federation
WFSF has published a magazine since its inception – since even before the organisation was formally constituted. The WFSF magazine has gone through several iterations, changing its name and style with the changing times over nearly five decades.
HUMAN FUTURES was launched on 23 December 2016 and is a fresh & contemporary, interactive, online magazine. Each issue will be loosely themed, with the first issue featuring some really exciting and innovative futures work by several of our younger WFSF members. Let us know if you want to contribute.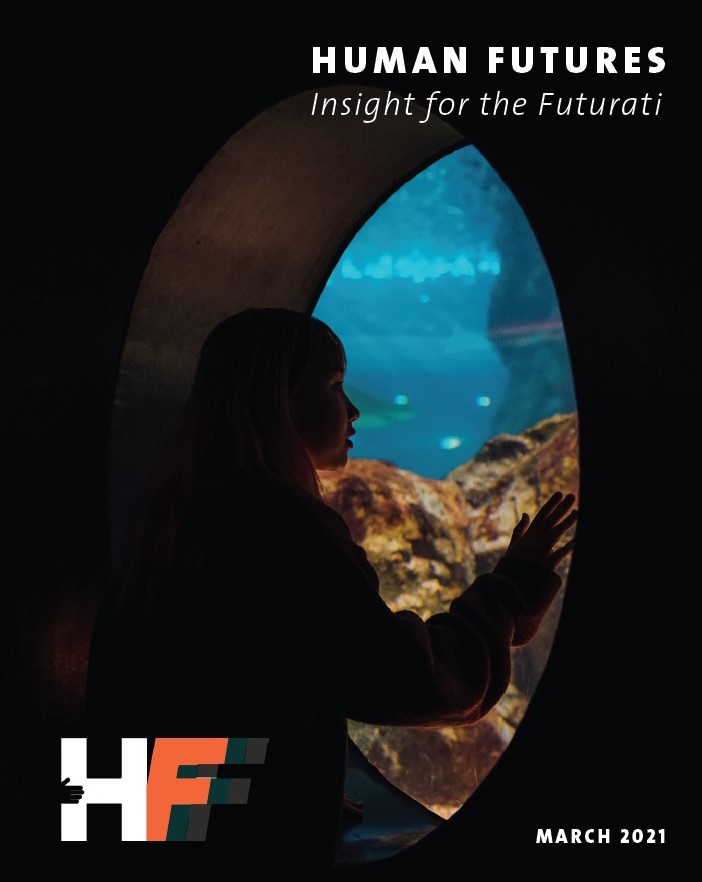 Letter from the President
Future Matters
Futures Barometer
The Education of the Future Doesn't Work Without Vulnerability
Smart Thinking: Shaping Different Futures
Decentered Futures
The Why Behind Midcentury
Subre
Cognitive Feeling: Future Possibilities 2050
A Future Ministry's Adventures and Optimistic Perspectives for Transformation
Zero Waste Living: The 80/20 Way. The Busy Person's Guide to a Lighter Footprint
Corporate Foresight: Anticipating the Future
Learning From Tomorrow
Science Fiction During the Pandemic
Conversations on the Futures We Want
Futures Labs: A Journey to Creating Your Desirable Futures
Can Positive Futures Become Places to Be
Can Listening to Your Heart-Beat Change Your Image of the Future?
---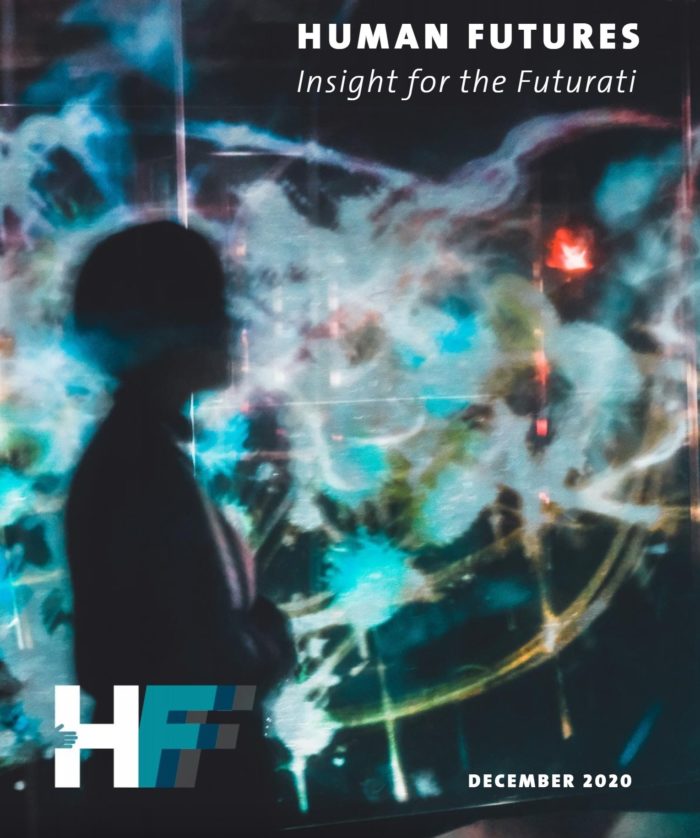 Letter from the President
Future Matters
UN Agenda 2030 with Victor V. Motti
Existential Threats Require A Planet-Wide Approach Managed by the World Government
The Coming Space Age
The Art of Visualization in Futures Studies
The Future Earth: A Radical Vision for What's Possible in the Age of Warming
Writing the Future
Using Dystopias as an Alternative to Imagine and Materialize the Future
Remote Work and Economic Consequences: An Exploration
Facing an Uncertain Future: Anxiety or Excitement?
---
Letter from the President
Smart Futures
Futures Barometer
Growing in Wisdom During the Coronapocalyse
Global vs. Local: The Future of Business and Education
Foresight in the Time of Covid-19
Viewing Earth and World Through Geoethical Lens
Deep Thought
Electrification in Peer-to-Peer Society- A New Narrative for Sustainable Futures
Aftershocks and Opportunities
A New Socially Focused Agenda
From Future Shock to After Shock and Anti Shock: A Review
World Future Day 2020 and the Millennium Project
Conversation on the Future We Want With Saeed Al Dhaheri
Eppur No Si Muove
Three Futures for Covid-19 Vaccination: The Ok, the Bad, and the Ugly
My Imagined Future As a Gen Z
Post-Covid Interactive, Web-Based Futures Wheel
Discovering Six Novel Scenario Archetypes in Science Fiction Films
Aftermost: Consulting the Oracle of Delphi
---
Letter from the President
Future Matters
Unraveling & Reweaving the Tapestry of Life in the Anthropocene
Herland: A Classic Utopian from a Woman's Point of View
Back to Futures: Futures Studies and Its Role in Addressing the Great Civilizational Challenges
The Fourth Industrial Revolution Storytelling
Work/Technology 2050 Scenarios and Actions
Conversation on the Future We Want…UN Agenda 2030
Operationalizing the Future: A review of Work-Technology 2050 Scenarios and Actions
2040: A futurementary Directed by Damon Gameau
The Design of Project-Based Learning – Learning Methodologies to Transform Our Futures
After Shock: The World's Foremost Futurists Reflect on 50 Years of Future Shock and Look Ahead to the Next 50
Happy 2050: What Future Do You Want?
WFSF Youth Perspective
Futures Conference Immersion: Review of the 2019 WFSF Conference
Human Futures Calendar 2020
Call for Papers
World Future Day: Do Not Fold, Spindle or Mutilate…The Future
---
Letter from the President
Future Matters from the Editor-at-Large
Who's who, Editorial Committee
News & Events
2019 Turku Consturcting Social Futures Conference Recap
2019 Mexico City WFSF Conference Promotion
Feature
2050 Global Genrerations
Neo-Growth as Cradle of Civilization
Leadership for the Future
Future of Food
Exo-Astroscociology
FutureScope
Alternative Futures of Space
Converstations
…With Riel Miller
Review Room
A Very Short Introduction to the Future
World Economic Forum Future of Jobs Report
Society and Lifestlyes in 2050
The Pursuit of New Virtue
Artifactory
Cover Feature: THINGTHINGTHING
Aftermost
Interview with a Young Futurist, Arsam
---
Opening Remarks
Dr. Erik Overland, Editor-in-Chief
Dr. Claire Nelson, Editor-at-Large
News & Events
Mobile Learning Week 2019
ASBAR World Forum
Features
A New Societal Contract
Science Fiction
FutureScope
WFSF Accreditation Initiative
Governing the Future
Artifactory
Seeing the Future at QRIFs
Conversations
UN Agenda 2030: Dana Klisanin
Review Room
The Future of Business
Reimagining Our Tomorrows
Sustainable Superabundance
Announcements
The Little Book of Foresight
Advocacy of Planetary-Level Consciousness
XXIII WFSF World Conference 2019
Recruitment
Image Credits
Aftermost
---
Letter from the President Erik F. Øverland
The Place of Humankind 2050: Johanne Margrethe Hartwig
The Importanc of Hardanger Academy: Johanne Margrethe Hartwig
Feature Articles from Members
State of the World: Johan Galtung
Prospecta Argentina 2017: Luis Ragno & Javier Vitale
Future Consciousness: The Evolution of an Idea: Thomas Lombardo
Teach the Future: The Rationale : Peter Bishop
To See with Fresh Eyes: Integral Futures and the Global Emergency: Richard Slaughter
Andean Ancestral Futures Thinking: Lucio Henao
Introduction to Forward Theatre: Alethia Berenice Motero Baena
Curator, Providentia's Prospectus: Claire A. Nelson
Memories at a Distance
Book Reviews
WFSF Countries and Members 2018
---
Editor/Curator: Jennifer Gidley. Art Director: Kelly Kornet
WFSF Feature Article: World Futures Learning Lab (LEALA) WFSF-UNESCO Participation Project 2012-20013, 2014-2015 & 2016-2017 by Jennifer Gidley & Maya Van Leemput.
Feature Articles from Members:
Stuart Candy & Jake Dunagan: Experiential Futures
Alethia Berenice Montero: Forward Futures Theatre
Dana Klisanin: Altruistic Gaming
Short Featured Innovations from Members:
David Wright: Futures Film Festivals F3
Shermon Cruz: City Futures in SE Asia
Peter Bishop: Teach the Future
Other Highlights: Cartoons and Photo-Essays; Futures News from around the World; Upcoming Futures Events & Lots Lots More…