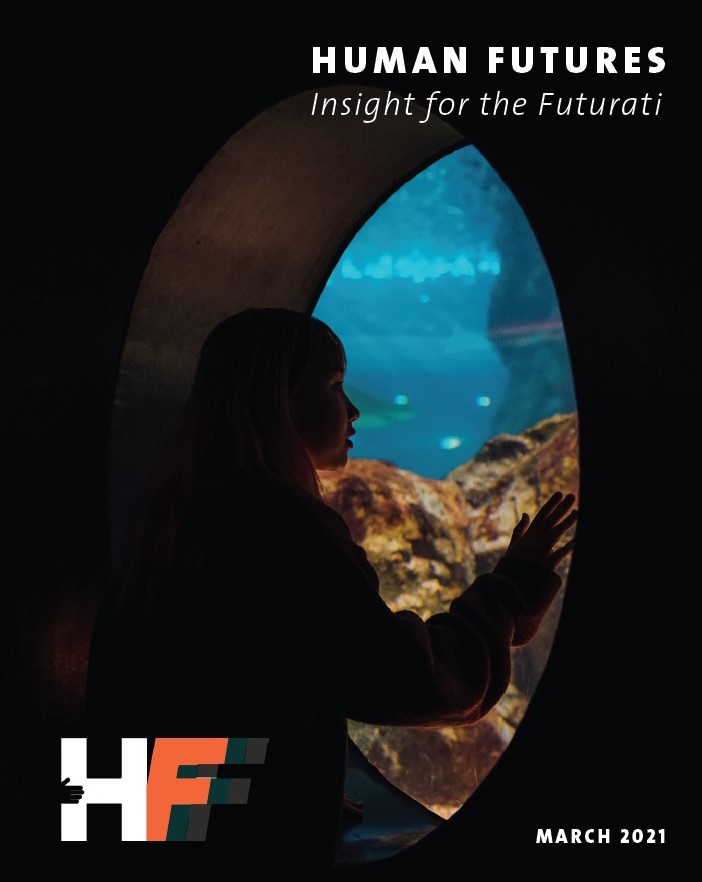 HUMAN FUTURES: A Publication of the World Futures Studies Federation
WFSF has published a magazine since its inception – since even before the organisation was formally constituted. The WFSF magazine has gone through several iterations, changing its name and style with the changing times over nearly five decades.
HUMAN FUTURES was launched on 23 December 2016 and is a fresh & contemporary, interactive, online magazine. Each issue will be loosely themed, with the first issue featuring some really exciting and innovative futures work by several of our younger WFSF members. Let us know if you want to contribute.
HUMAN FUTURES MAGAZINE SUBMISSION GUIDELINES
This Human Futures Magazine is part of the World Futures Studies Federation family, offering a fresh & contemporary, interactive online magazine. WFSF is a UNESCO and UN consultative partner and global NGO with members in over 60 countries. The Human Futures offers a non-peer-reviewed forum for exploring and exchanging ideas, visions, and plans for alternative futures through long-term, big-picture thinking and radical change. The magazine is open access to its content on the principle that making the exchange of ideas freely available to the public supports a greater global exchange of knowledge. Authors of articles published remain the copyright holders and grant third parties the right to use, reproduce, and share the article according to the Creative Commons license agreement.
AREAS OF INTEREST
Human Futures seeks contributions in the following areas:
· Feature papers (1000-1500 words): Unpublished papers on futures related topics that are "hot", current, or that may be coming into focus
· Reviews (200-500 words): Films, Games, Books, Museums, Conferences
· Prognosis (500-750 words): Trends and forecasts on any futures related topic and theme
· Technical notes (500-1000 words): Article or Essay on Methodology or CASE STUDY on Futures Studies. Written for General Audience not Academic style
· WFSF happenings (200-500 words): Any WFSF or related events etc.
AUTHOR GUIDELINES
Human Futures reserves the right to reject or request edits of papers at any stage of evaluation. Submissions made for a particular issue of Human Futures may be considered for publication in later magazine issues, in which case contributors will be advised accordingly. The selection of papers for publication is based on a preliminary evaluation by the editors, then subject to a more detailed review by the editorial committee.
STYLE GUIDELINES
Contributors should submit documents in Word format using Arial or Calibri 11pt font and double spaced. While Human Futures Magazine is not a peer-reviewed magazine, it is expected that citations and references will conform to the APA 7 guidelines if employed. Human Futures will not publish any submissions that do not conform to academic integrity or has evidence of plagiarization.
SUBMISSION PREPARATION CHECKLIST
1. As part of the submission process, authors must check off their submission's compliance with all of the following items, and submissions may be returned to authors that do not adhere to these guidelines.
2. Authors submitting papers do so on the understanding that the work in its current format has not yet been published and is not under consideration for publication elsewhere.

3. Submissions should not exceed
3.1.1. Feature Papers should not typically exceed 1000-1500 words.
3.1.2. Reviews should not typically exceed 200-500 words.
3.1.3. Prognosis 500-750 should not typically exceed 500-750
3.1.4. Technical notes should not typically exceed 500-1000
3.1.5. WFSF Happenings should not typically exceed 200-500
4. The Submission should include an author's bio, which should be no more than two lines (50 words) and have contact information below the article title.
5.    Queries about Submissions should be sent via the Contact page.