The WFSF Iberoamerican Chapter, representing Latin America, Spain and Portugal was founded in 2007. Office-bearers include:
Dr. Antonio Alonso Concheiro (Mexico) President
Jordi Serra (Spain) Vice-President
Professor Guillermina Baena Paz (Mexico) Secretary-General & and also Vice-President to WFSF President for the Iberoamerican Region.
Photo: Dr. Antonio Alonso Concheiro
---
News from IberoAmerican Region for 2014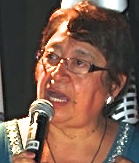 Report from Dra. Guillermina Baena Paz, Vice-President, Iberam Region
1. The WFSF Iberam Chapter held a series of Videoconferences 2014 (February to October) with several members of WFSF speaking. It was trasmitted to the Latin American region.
2. Academic visit from Colombia to Mexico, 25 students from Strategic Prospective from Externado University in Bogotá, Colombia. They studied the case of Mexico. They spent a week with Mexico's leading futurists including authors and actors of prospective in Mexico.
They received a WFSF Certificate of participation.
3. Book published: Sergio Montero Olivares (WFSF Member).
Prospective vision of public Administration for the global society to 2050.
4. We worked with the Institute of Public Administration in the State of Mexico with many events that promote prospective vision:
o Conferences
o Public administrators Mexiquenses congress
o Three presentations of Sergio Montero Olivares book
o Diplomado (Certificate course) in Government prospective (completed in January 2015)
o Course for 2015: Framing Prospective.
5. Book (In Press) Espacios anticipatorios y prospectivos. Escenarios al 2050. Guillermina Baena Paz: Editor and author of one article.
6. Digital Book (In Press) Planeación prospectiva estratégica. Teorías, metodologías y buenas prácticas en América Latina. Guillermina Baena Paz: Editor and author. Includes 39 authors from ten Iberam countries.
---